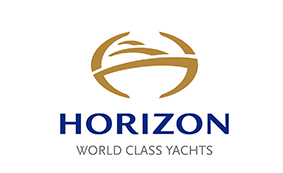 Horizon Yachts
Kuang Yang St. 8,
KAOHSIUNG CITY,
81257,
Taiwan.
+886 78607770

info@horizonyacht.com
Company Profile
Founded in 1987, Horizon has emerged as the leading Asian yacht brand in the luxury yacht market and is known throughout the industry for its sophisticated craftsmanship, superior build techniques, and innovative technology. Horizon Group contributes to one-third of Taiwan's total yacht exports and has elevated the country as one of the world's top five luxury megayacht-building nations. Horizon has been honoured as "Best Asian Motor Yacht Builder" 14 years in a row, is recognized as one of the Top 10 Global Superyacht Companies by The Superyacht Report, and is the first and only member of SYBAss (Superyacht Builder's Association) from the Far East.
In the past three decades, Horizon has delivered over 890 luxury yachts, with more than 240 of these over 80 feet in length. Popular models ranging from 52 to 150 feet include motor yachts, superyachts, power catamarans, expedition yachts, and fast displacement motor yachts.
As Horizon looks to the future, the entrepreneurial spirit that inspired founder John Lu's boatbuilding dream remains the defining force behind the company – a yacht builder whose disruptive innovation is backed by success that yields yachts in their most beautiful form.
For more company information, please visit Horizon Yachts at www.horizonyacht.com