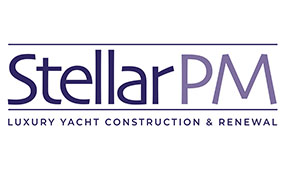 StellarPM, Inc
775 SE 17st Street #272,
Fort Lauderdale,
33316,
United States.
+44 7866 451840

pc@stellarpm.com
Company Profile
StellarPM has been has been building and refitting luxury yachts and managing yards for over 20 years.
We offer several series of new yacht construction offerings and we have recently opened up shipyard build facilities for these in HaiPhong, Vietnam and Zhuhai, PRC.
StellarPM new construction offerings are :
StellarCAT – a series of aluminium power catamarans with three different model sizes : the 20m AL20-2, 25m AL25-2 and a tri-deck AL25-3. Construction is to ABS and Lloyds rules and the design and engineering brief was focused on superior safety, strength, performance and quality. These are long-range oceangoing powercats that will inspire total confidence in challenging sea conditions.
StellarONE – StellarPM's series of monohull raised pilothouse superyachts. The first ST108 is under construction in our HaiPhong yard and two other models are currently under development in the 36m to 41m size range. All StellarONE models are offered as either full displacement steel/aluminium or semi-displacement higher-powered all-aluminium versions.
StellarEXP - A series of explorer power catamarans with 32m (105ft) and 37m (121ft) models and various configurations of each offered, this is a series that offers over and above the typical explorer yacht offerings. With ultra-wide beams each model is offered in either an 'M' configuration boasting an extended and strengthened upper deck to upper deck accommodate tender stowage. Or the alternative 'S' configuration of each model has a shorter main deck that allows for a very large tender on the main deck. In the case of the 37m a 12.5m one being possible.
As with the StellarONE series, all StellarEXP models are offered as either full displacement steel/aluminium or semi-displacement 'fast explorer' all-aluminium versions.
StellarPM also offers StellarRENEW : The New Gold Standard in Superyacht Refit.
Through the StellarRENEW Remote Refit and Modular Manufacturing service huge time and cost savings are achieved over conventional yard refits. Industry-beating warranties are available and full renewals offer Owners the New Build experience in half the timeframe at a fraction of the cost of buying new.
Marinas & Shipyards
Boat Builder
Yacht Builder
Superyacht Services
Refit & Repair
Marine Engineering