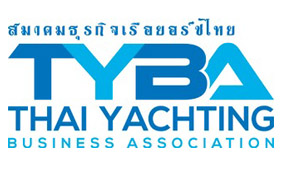 Thai Yachting Business Association
1/350 Moo 8 Srisoonthorn Subdistrict,
Thalang District, Phuket,
83110,
Thailand.
+66 89 446 1991

info@thaiyachtingbusinessassociation.com
Company Profile
The Thai Yachting Business Association was founded in 2014, although it can trace its roots back to the late 90's and the Marine Alliance of Thailand, MAT, which was instrumental in the removal of import duties on new yachts in 2004 and provided a huge boost for yachting in Thailand. The TYBA is a non-profit marine leisure industry association run completely on a volunteer basis serving yacht builders, yacht charter operators and brokers, yacht sales brokerage and dealerships, marinas, yacht repairs and refit, yacht management and other yachting-related companies throughout Thailand. The primary objective of the TYBA is to provide a medium through which all yachting related businesses in Thailand can address their concerns with the relevant authorities.
What are the benefits of being a TYBA member?
The mission of the TYBA is to enable the networking of all marine leisure industry stakeholders in Thailand to enhance the growth, value, safety and quality of yachting in Thailand for the benefit of its membership and helping the industry to overcome any challenges that may arise. The TYBA works with various government authorities such as the Marine Department (Ministry of Transport), the Customs Department (Ministry of Finance), the Ministry of Tourism and Sports and the Tourism Authority of Thailand, as well as the Thai Chamber of Commerce and Senate Committee on Transportation to resolve issues that affect its members.
What can the TYBA do for your company or business?
Everyone on the board of the TYBA is an unpaid volunteer. We do not profess to know all of the issues that affect our members and the yachting industry in Thailand. We need you, our members, to tell us about the issues that affect your business and suggest solutions and explain what you need us to do to try to address them. Individual companies cannot lobby the relevant government departments for changes to policies, this must be done through a recognised association such as the TYBA. In the next section you will find the current members of the board of the TYBA and below that a list of committees and their members who are working on the issues that affect our industry. If you would like to join us please let us know. The TYBA is your voice, please use it.