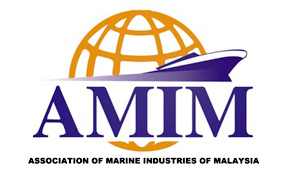 Association of Marine Industries of Malaysia (AMIM)
C-G-33A, 10 Boulevard Block Camillia, Lebuhraya SPRINT, Petaling Jaya,
Selangor,
PJU 6a/3a, 47400,
Malaysia.
+60 12 820 8432

amim.secgen@gmail.com
Company Profile
The Association of Shipbuilders and Repairers of Malaysia (ASROM) was established in 1984 and later changed their name to the Association of Marine Industries of Malaysia (AMIM) in 1997. AMIM is a non-governmental organisation (NGO) that represents a vast sector of the Malaysian marine industry, which comprises of shipbuilding, ship repair and marine-related industries.
Entrusted by its members, AMIM's primary mission is the protect and promote the interest of its members, to assist in the development of Shipbuilding and Ship Repair (SBSR) and marine-related industry, as well as to collaborate in efforts towards continuous improvement of maritime standards for the benefit of all.
AMIM works tirelessly to highlight issues and become the voice representing the industry in communications with the government. Over the years, AMIM has successfully done its part in becoming the bridge connecting the industry and the government, assisting them in providing valuable inputs for the betterment of the industry and ultimately bringing progress to Malaysia as a whole. Continuing with its efforts, AMIM engages the government and the industry frequently to strengthen relationships as well as fostering new ones. Thus, establishing AMIM as a household name in the SBSR sector and the maritime sector as a whole.
No matter what situation, our team acts with integrity and honesty as we focus on putting ourselves in the shoes of others. We communicate and connect with our members, partners, stakeholders and each other as we rely on each other to drive success. With close relationships among each other, a person will go above and beyond in their duty, and their actions impact businesses and our partners' success.
At AMIM, we dive deep to understand how and what makes our stakeholders tick as we are all about providing outstanding service to our members, partners, stakeholders and the community. A true champion of this mindset, we take pride in knowing that we're making a real difference by working together to achieve our goals.
AMIM aims to continually further the development and explore the potential of the Malaysian Maritime Industry as well as to help materialise the aspiration of Malaysia to be a maritime nation.