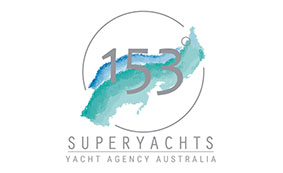 Superyachts 153°
Suite 5391 4 Barton Crescent,
Port Macquarie,
2444,
Australia.
+61 448 838 396

corina@superyachts153.com
Company Profile
Superyachts 153°was established in response to the growing demand for yacht support to serve vessels arriving in beautiful Australia. To meet an elite level of service, the founders Corina Wilson and Dave Saul have chosen a skilled team from representatives that have served on some of the world's largest and most exclusive yachts. Superyachts 153°service is as consistent as it is individual, guaranteeing timely responses and intelligent solutions by a team that is available 24/7 to cover all needs during visits on-shore and on-board.
​
Our priority is ensuring that our vessels experience is on par with all other top world destinations and provide a standard of service that ensures their transition in and out of the country is seamless. We believe that detail is everything, and we are here to plan every aspect of a visit, from the necessary to the wonderful.
We have built a strong network of the very best local vendors and services to provide a VIP experience all the way. We leave nothing to chance so that crew and guests have peace of mind that their visit is well-planned and organised from arrival to departure.