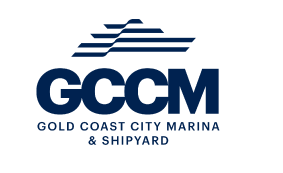 Gold Coast City Marina & Shipyard (GCCM)
Box 1 76 - 84 Waterway Drive,
Coomera,
4209,
Australia.
+61 411 593 141

kevin@gccm.com.au
Company Profile
THE LARGEST REFIT & REPAIR FACILTY IN THE SOUTHERN HEMISPHERE
ASIA PACIFIC'S MOST AWARDED MARINE FACILITY
Gold Coast City Marina & Shipyard (GCCM) is the Asia Pacific's most awarded refit and repair facility attracting yachts from around the globe. Its service capabilities extend to all aspects of superyacht refit, maintenance, berthing, dry storage and construction.
GCCM is the first and only shipyard in the Asia Pacific region to be awarded the highly coveted 5 Gold Anchor Marina Accreditation and is also an IGY Anchor Club Strategic Partner and a preferred service provider for Benetti, Gulf Craft, Majesty Yachts and Cantiere delle Marche. The shipyard boasts a clean and controlled hardstand that is over 50,000m2, eight purpose-built superyacht refit sheds and a dedicated superyacht work basin.
AN UNRIVALED TEAM OF EXTRAORDINARY MARINE CONTRACTORS
This truly world-class facility plays home to the largest concentration of marine trades in Australia with over 90 on-site businesses employing in excess of 800 top-quality marine contractors - no other yard south of the equator has such a diverse and professionally recognized offering. GCCM has become an international benchmark and a vital part of the 250-hectare Gold Coast Marine Precinct.
For a full list of onsite marine trades and services, please visit: gccm.com.au/business-directory
GCCM is also the East Coast Australia Agent for Seal Superyachts, the most comprehensive superyacht support agency in the world. With dedicated offices right across Asia and the Indian and Pacific Oceans our team is able to provide a cohesive support network from the Panama through to the Suez Canal.
LOCATED IN AUSTRALIA'S WORLD-FAMOUS PLAYGROUND.
GCCM is ideally located on Queensland's spectacular Gold Coast, mid-way between Cairns and Sydney. Spanning more than 57 kilometres of picturesque coastline and bordered by world-heritage listed rainforest, the Gold Coast is Australia's premier tourist destination – renowned for surf, sand and year-round sunshine. It is the ideal destination or stopover for vessels cruising the South Pacific or the east coast of Australia and also a dedicated port of clearance.
The world-class facilities at GCCM are complimented by a range of thoughtful services including an impressive restaurant/café, newly refurbished laundry and ensuite facilities, courtesy cars (with surfboard and bike racks), courtesy bikes and surfboards, airport shuttle service, pilot vessel service, complimentary wi-fi and a brand-new dedicated Superyacht crew suite. A dedicated Customer Relations Officer aims to provide a truly personalized level of care attention for visiting yachts and is available to make restaurant reservations, source provisions, book hotels, recommend night life hot spots, arrange medical requirements, facilitate VIP access to facilities at an adjacent 5 star luxury resort (i.e. golf course, tennis courts, swimming pools, fitness club etc) and generally make your visit enjoyable and memorable.
GCCM has become an international benchmark in marine services and a vital part of the 250-hectare Gold Coast Marine Precinct.
Discover more at gccm.com.au | destinationgoldcoast.com