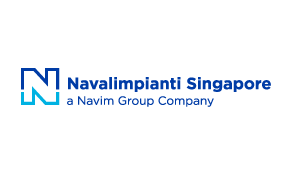 Navalimpianti Singapore Pte Ltd
50 Tuas Avenue 11 #02-40,
Singapore,
639107,
Singapore.
+6598235595

ASPESSOT@NAVIM.COM
Company Profile
Navalimpianti Singapore Pte Ltd is a wholly owned subsidiary of Navim Group. The Group is based in Genoa, with three factories in Italy.
Navim Group is the world leader in the design, manufacturing, supply and service special marine equipment such as davits, cranes, movable platforms, cargo elevators, side doors, remote control valves, entertainment and lighting systems and many other marine related projects.
Navim Group operates at major commercial, cruise and leisure destinations with a wide network of own Service Stations.
Navalimpianti Singapore Pte Ltd provides spares and technical assistance in the Asia-Pacific region, assisting owners with a wide range of services, including but not limited to fabrication, overhaul, repair and troubleshoot of equipment on board.