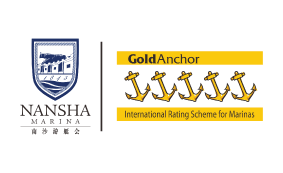 Nansha Marina
5 South Gangqian Road, Nansha District,
Guangzhou,
511458,
China.
+86 39078888

albert@nanshamarina.com
Company Profile
Nansha Marina enjoys an unrivalled location at the heart of Hong Kong, China and Macau's Pearl Delta Region. Its delightful near-tropical, year-round climate make it Southern China's finest nautical leisure and recreational destination. Easily accessible by yachts from far and wide, it's also the ideal nautical gateway into China. A facility designed by boaters for boaters, the marina also boasts many high end facilities including an inviting 'East meets West' Clubhouse.
Our marina understand your private yacht is priceless and thus provide the superb care and attention it needs to stay in tip-top shape. Our walk-on berths are served by electric carts that take you and your guests directly to and from quayside. Fully protected by wave attenuators inside our 130,000 sq. m. marina basin, your berth is equipped with a full range of essential utilities, phoneline and water.

Our roomy marina basin's entrance offers safe access and wider than international standard fairways for yachts of up to 165- feet(50m)long. With depth of -2.5m to -5m, the basin will also make it easy for you to maneuver in and out. In all, Nansha Marina offer 352 wet berths. So whether a sailing dinghy or corporate super yacht, we'll always have plenty of space for you.
The service yard is designed to satisfy the most discerning boat builder, owner, captain or crew member, our handy one-stop service centre will provide a full range of essential supports. From major engine overhauls and refits to scheduled bottom anti-foulings, facilities include all the lifting and maintenance systems your boat is ever likely to need. Operated to international standards, the centre also supplies top quality fuel, pump-out and professional care facilities that ensure Nansha Marina will remain a truly 'world class marine leisure hub'.